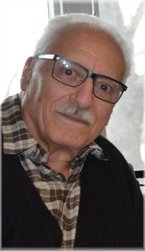 Di LORETO, Angelo Francesco - (Born September 16, 1932 – Molina Aterno, Province di L'Aquila, Abruzzo, Italy) -
It is with heavy hearts that we announce the passing of Angelo Di Loreto, beloved Husband, Father (in-law), and Nonno on Friday, October 7, 2017, peacefully at St. Peter's Hospital after a courageous battle with lung cancer.
He will always lovingly be remembered by his wife of 56 years Elena, along with their children Enzo (Christine), Louie (Paula), and Teresa (Mike Countryman).
He was extremely proud of his granddaughters: Deanna, Jennie, Ellie, Meghan, Tessa, Michaela, Isabella, Danielle and his great-granddaughters Meara and Ava Mae.
Predeceased by his parents Antonio and Maria Di Loreto and in-laws Paolo and Elisabetta Fasciani, siblings Nilla Di Loreto, Dina and Luigi Carlucci, Teresa Di Loreto and Luigi Di Loreto and by sisters-in-law Elvira and Franchino Giancola, Maria Fasciani and brothers-in-law Mario and Gino Fasciani.
Angelo will be deeply missed by his older brother Domenico and his wife Iolanda Di Loreto of Hamilton and fondly remembered by his sister-in-law Lucia and Goffredo Bartolucci, brother-in-law Fernando and Gabriella Fasciani of Italy, as well as by his many nieces, nephews, cousins, compari, godchildren, and friends.
Angelo was born in Molina Aterno, province of L'Aquila in Abruzzo, Italy, he worked in Belgium for a time with his brother before coming to Canada. He returned to Italy in 1961 to marry his love Elena they returned to Hamilton to build a future together and raise their three children on Chestnut Ave. He retired from Stelco after 30 years of service when he then spent more time on his true passion gardening.
He also enjoyed spending time at Italian Social Clubs, particularly Monello's to play cards, watch soccer and have an espresso with a shot. While at St. Peter's he was a three time Bocce champion and enjoyed playing Scopa, Briscola Tresette and having a glass or two of wine with his meal. His guilty pleasure was watching WWE with his wife Elena, daughter Teresa and granddaughter Danielle.
We are grateful to the doctors, nurses and staff of 3 West at St. Peter's and Maria, his PSW from Bayshore for the kindness and care they showed Angelo.
Visitation at Bay Gardens funeral home, 947 Rymal Road East, Hamilton on Thursday, October 12th from 2-4 pm and 7-9 pm. Vigil prayers Thursday at 8:00 pm.
Funeral Mass will be held on Friday, October 13th at 10 am at St. Anthony of Padua Church, 165 Prospect St., Hamilton. Entombment will follow at Bayview Cemetery and Mausoleum, 740 Spring Gardens Road, Burlington.
For those who wish, memorial donations in lieu of flowers can be made to St. Peter's Hospital, Hamilton.
Angelo's last wish to all of us was to remember that he had lived a full life of 85 years and hopes that we remember to love each other and remember him with laughter and love.
As Angelo would say, love you… me too.

Sempre nei nostril cuori.
{fastsocialshare}