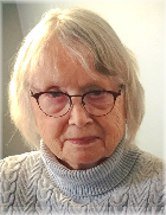 BURKHARDT, Dr. Renate Maria (née Klöpfel) Burkhardt - February 8, 1939 - September 19, 2018 - Passed away on September 19, 2018 with her daughter Susanne and loyal friend Theodosia by her side.
Predeceased by her husband Dr. Helmut Burkhardt in December 2017, she leaves behind her children Susanne (Cary), Henrike and Johann, grandchildren Mathias, Felix, Ludwig and Josef, and her brother Juergen (Monika) and family.
Renate left us after a long bout with cancer, which she accepted with grace and good humour. Behind Renate's quiet and unassuming manner lay a sharp intellect and fierce determination.
Born and raised in Hamburg, she experienced the war in Europe as a child, including periods of separation from her parents in order to ensure her health and safety. After high school she went on to study medicine at the University of Hamburg, following in the footsteps of her father and brother who were both physicians.
She completed medical school and did her first residency in Germany in the mid-1960s, while many women of her generation were staying home and raising families. In 1967 Renate immigrated to Canada with Helmut, joining his immediate family in Toronto.
While raising a young family in a new country, Renate completed a second residency in Toronto and then a third in Montreal in order to qualify to practice medicine in Canada. She went on to practice as a family physician, with many patients drawn to her calm and helpful manner. As a young doctor at Toronto East General Hospital, she and Helmut found lifelong friends in fellow resident Dr. Thomas Salvendy and his wife Elfi.
Life on Balsam Avenue in Toronto also resulted in long-standing close friendships with the Neuland and Appleton families. Renate and Helmut had a large social circle and hosted frequent gatherings for friends and family, which often featured lively discussions on history, philosophy, and culture and well as music and singing.
Among her post-retirement activities were French classes, singing in a choir, lawn bowling and travelling with her good friend Pat. Renate enjoyed food, wine, music, the arts and travel, and her grandchildren had a particularly special place in her heart. She was a gracious, kind and gentle soul who we will miss dearly.
In keeping with Renate's wishes, a private service for family and close friends will be held in the coming weeks.
{fastsocialshare