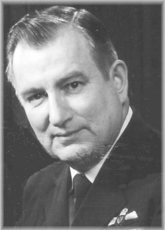 SANTARELLI, Col. Jack (Ret'd) WWII - (21 November 1924 – 09 October 2018) -
Colonel Santarelli was born in Toronto on 21 November 1924 and died peacefully in Belleville on 09 October 2018, joining his wife of 65 years, Joyce, to whom he was deeply devoted.
Son of the late Carlo and Ellen Santarelli, he was predeceased by sisters Norma, Ruth and brother Donald.
He leaves behind his beloved daughter and best friend, Barbara-Jo who gave him a lifetime of pride and joy.
As well, he leaves behind his son-in-law and friend, Bob Clute, his grandson Rob of whom he was very proud, Rob's devoted wife Angela and his three great-grandsons Connor, Pierson and Keaton, who brought him such joy.
Jack had a distinguished 35-year military career in the RCAF and had over 6000 hours of flying duties.
He crashed twice due to engine failure, once in England and once in Burma, with no loss or injury to any of his crew members. While in Burma, he completed a tour of operations with the 435 squadron. Later, he also completed several trips on the Korean airlift with the 426 squadron.
Jack is a graduate of the Military College and the Nato Defence College in Rome.
While stationed in Halifax, he served as Military Aide to the Lieutenant Governor of Nova Scotia. Following, he was appointed Commanding Officer of RCAF Station Moisie, PQ and then Deputy Director of Threat Assessment at NORAD HQ in Colorado Springs. He ended his military career as Director of Security DND.
Following retirement, the Secretary General of the United Nations appointed Jack as Director of worldwide security for the United Nations, a position he held for several years. On retirement from the UN, he returned to Toronto and became a Security Consultant to major Canadian corporations.
He retired in Toronto where he was born and later moved to his final home in Belleville.
The family will receive friends at the Burke Funeral Home, 150 Church Street, Belleville on Thursday, October 11th, from 2 - 4 p.m. Funeral Service will be held in the Chapel on Friday, October 12th, at 11:00 a.m. Visitation from one hour prior to the service. Interment at Belleville Cemetery.
If so desired, memorial donations to the BGH Foundation – Cancer Care would be appreciated by the family.
{fastsocialshare