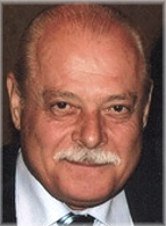 GEORGOPOULOS, Efstathios "Steve" - It is with great sorrow that we announce the passing of our beloved father Efstathios "Steve" Georgopoulos who went peacefully in the early hours of April 12, 2019 at the age of 77.
Steve is survived by his children Helen (Kostas), Strati (Claudia) and his 4 beautiful grandchildren Demetrios, Isabella Panagiota, Panagiota and Peter Luca who he adored and cherished.
He also leaves behind his siblings Nick (Poppi), Fotis (Vassio), Angeliki, and Tasso (Dina), his brother-in-laws Panteli, Demitri (Katerina) and his sister-in-law Sophia, along with his many nieces and nephews.
He will be remembered as a devoted husband to Panagiota who passed on October 21st, 2001, loving father, doting grandfather and a true friend. His passion for music and love of all things Kazantzidis are forever ingrained in all who knew him.
Although he may have left the physical world, his soul will forever live on through the memories that will be cherished by his family and friends. He will always be loved and missed.
Visitation will be held at Heritage Funeral Centre, Toronto on Monday, April 15th, 2019 from 4-8 pm. A funeral service will be held in St. Demetrios Greek Orthodox Church on Tuesday, April 16th, 2019 at 10 am. Interment to follow.
{fastsocialshare