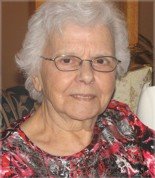 PEREIRA, Filomena De Sousa - (March 22, 1927 - July 12, 2017) - Cherished mother, Grandmother, Great-Grandmother and Great-Great-Grandmother. Filomena is greatly loved and will be missed by her family and friends. Filomena passed away peacefully the morning of Wednesday, July 12, 2017 in the comfort of her home surrounded by her loved ones.
Filomena was born in Santa Maria, Portugal where she met her husband Antonio and moved to S. Miguel where she raised 12 children. She later moved to Canada in 1970 where she built her new life with Antonio and her children.
Filomena loved having her children around and being a great mentor to her grandchildren. She was a wonderful mom, friend, confidant and an incredibly strong woman that we all looked up to. She built great friendships outside of her family that she cherished just as much.
Filomena is together again with her beloved husband Antonio, her son Valdomiro and daughters Maria Jesus.
Loving mother to Maria Isabel (Vasco), Dalia (Alfredo), Manuel (Berta), João (Grace), Maria Adriana (Hugo), Carlos (Carmen), Filomena (Joe), Fatima (Manny), Amandio (Nelly), Ana (Nick) and Augusto (Amy).
Proud Grandmother to Andrea (Jase), Michelle (Kenny), Jeff, Alfred (Michelle), Ramona (Michael), Walter (Ashley), Garrette (Tracey), Arthur (Tammy), Christina (John), Steve (Delia), Jessica (Jeff), Mercedes (Scott), Eddy, Erica (Jerry), Kevin (Megan), Samantha (Jamie), Randy (Elana), Stephanie, Mark, Jennifer (Carl), Christopher (Shantel), Victoria (Bradley), Nicole (Mihai), Alivia (Dylan), Brian (Stephanie), Kayla, Josh, Karlie, Morgan, Nathan and Hope.
Great-Grandmother to Vanessa, Alexia, Alexander, Ethan, Mikey (Rachel), Angelica (Matt), Nathanal, Autumn, Tyler, Cynthia, Austin, Avery, Chase, Brooklyn, Erika, Brianna, Noah, Sydney, Ayden, Amelie, Elizabeth, Lorenzo, Ryan, Cruz, Shea, Maximus, Jahmal, Kalmin, Kaymin, Bella, Shawna, Abigail and Jayden.
Great-Great-Grandmother to Grace and Lukas.
Filomena will be dearly missed and lovingly remembered by her extended family and friends. Visitation will be held on Friday, July 14, 2017 from 10 a.m. – 1 p.m. at Coutts Funeral Home, 96 St. Andrews Street, Cambridge (519-621-1650) followed by a Funeral Service at 1 p.m. Interment to take place following the service at Mount View Cemetery, Cambridge. As expressions of sympathy, donations made in Filomena's memory may be made to The Canadian Cancer Society, The Heart and Stroke Foundation or The Cambridge Self Help Food Bank.