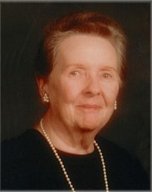 BLACKLOCK, Wilda Margaret (née McGlaughlin) - Passed away at the Guelph General Hospital Saturday July 7th 2018 in her 96th year.
Her memory will remain with her son W. James Blacklock her daughter-in-law Claire Mullie, her granddaughter Adrienne, grandson Julien all of Toronto and her sister in law Dorothy Blacklock of Guelph.
Also 'Auntie Wilda' will be thought of fondly by her nieces and nephews and their families especially her 'near daughter' Linda Blacklock who did so much to help her maintain her independence to the end.
Although carrying her beloved husband Lloyd's name who predeceased her, she always also remained a McGlaughlin and will be remembered fondly by Larry and Murray McGlaughlin and Sharon McConnell (née) McGlaughlin and their families. Larry, Murray and Sharon were all children of her dearest predeceased only cousin Joseph and his wife Mary McGlaughlin. She was also predeceased by her parents William and Evelyn McGlaughlin and her brother Charles.
Wilda was born in Guelph, spent her adolescence in Nassagaweya Township before marrying Lloyd and moving back to Guelph where she worked washing dishes, in a drive-in, and as a secretary. She ultimately returned to school to complete her education which was a passion for her. She finished her working days in the Department of Sociology at the University of Guelph.
She was interested and aware of current events until the end. The week of her death she watched an entire soccer game for the first time ever and was cheering for Belgium's team because her grandchildren were fans.
Friends will be received at Wall-Custance funeral home, Guelph, Thursday at 10 am. A funeral service will follow starting at 11 am with a subsequent reception at the funeral home. Interment with then occur at St John's Anglican Church Cemetery Nassagaweya for those who would wish to attend.
Memorial contributions to the charity of one's choice would be appreciated in lieu of flowers.
{fastsocialshare}