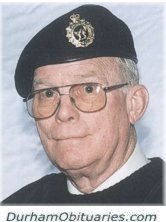 GRANT, Alexander John - (1932 - 2018) -
Alex, aged 86 passed away in Oshawa, Ontario on September 13th, 2018 as a result of lung cancer, his third battle with this adversary over the past few years.
Through it all he never lost his sens of humour and each new person who attended his personal & medical needs had to survive the 'acid test' question... How far can you walk into the forest?
Some folks pondered, mused, thought, delved into mythology, physics etc.
The answer? Very simple, halfway, after that point you are walking out!!!

Alex was born in Montreal, Quebec February 19th 1932, the eldest son of Alexander James and Helen Barbara (Rolph) Grant.
He was also the eldest grandchild of Alexander Joseph Grant, Chief Engineer on the construction of the last Welland Canal which officially opened August 1932.
There was some confusion over which family event was greater.... Sandy's birth or the canal opening??? On his maternal side he is a descendant of John Rolph, physician, lawyer and politician, who also participated in the 1837 Upper Canada Rebellion, was exiled to the USA and eventually pardoned by Queen Victoria.

He attended Daniel O'Connel school, St. Leo's School Academy and Loyola College. While a student he participated in several sports... tennis, swimming, diving, down hill skiing and horse back riding.

At the age of 18 he entered the Royal Canadian Air Force, 401 Squadron, Montreal, the only Canadian Squadron to fly in The Battle of Britain. Following in the footsteps of his Uncle Alan Rolph, Alex earned his wings, became a pilot and rose to the rank of Flight Lieutenant, spending 10 years in the Military, which included his service in Korea while attached to the American Air Force.

In 1960 he married Amelia Pauline Lepak and they had 2 children, Alexander James and Linda Ann.

Over the years Alex has had a variety of jobs, including his own Chemical Company which involved servicing and selling products. For some years he was an assistant administrator at The Wellesley Hospital in Toronto.

In 1976 through a single parent organization, he met Doris Mary (Corbman) Zedic, and in September of that year the two were married in the Chapel at Albert Street United Church. Doris brought her family of three children; Elizabeth (14), Christopher (13) and Jeffrey (12). Alex never shied from the responsibility of acquiring this ready-made family and immediately took over the reigns of family management to keep and/or attempt to keep the kids on the right road. Admittedly there were the inevitable upheavals and differences of opinion, but eventually we survived and the family got onto an even footing.

He sold insurance policies for the Co-Operators and air time for the Oshawa Radio Station CKLB for several years. Servicing the Dairy Industry was another position he held. The kids loved the ice cream that was one of the perks of that position! He worked with the legal profession in Oshawa & area serving assorted documents and writs, also appearing at Tribunals within the Landlord and Tenants Act etc.

Some of his outside interests included the 420 Wing, R.C.A.F.A., where he served as President for 5 years; the Ferret Club, helping to rehab & refurbish military vehicles: the Ontario Regiment Cadet Corps 1913, where he served as the in-take officer and Band Master. He also helped with many cadet programs, including camping skills both summer & winter. Through the Cadet program he was pleased to see two of our grandsons enter the regular military forces as a career, and both served in a tour in Afghanistan. Other military family members include: daughter Linda and granddaughter Jennifer involved as Civilian Instructors with Army Cadets in the Mississauga area.

Alex is predeceased by his parents Alexander James Grant (1973) and Helen Barbara Rolph (1997), his brothers Lawrence Gordon (2014) and James Andrew (2016).

He is survived by his wife of 40 plus years Doris (neeCorbman), her children Elizabeth, Christopher and Jeffrey Zedic.

Their grandchildren: Keane (his partner Krista); Chandler (his partner Krisy); also Carly and Tyler.

His son Alexander James (Yvonne). Their son Daniel James; his daughter Linda Ann and her children Jennifer and Derek.

Also surviving is his brother Peter Rolph Grant, his wife Sandra and their four children; Kathy, Jimmy, Barbara and Peter Alan, along with their families all of Dorval, Quebec.

Cousins on both sides of his family, the Grants and the Rolphs will also remember him, hopefully with some fondness.

Funeral arrangements are in the charge of Mount Lawn Funeral Home, 21 Garrard Road, Whitby. Visitation will be held on Monday September 17th from 2:30 pm - 3:30 pm. A funeral service will be held in the chapel at 3:30 pm.

Cremation has taken place.

Honourary pallbearers will be his grandchildren: Keane Zedic, Kristy Allan, Chandler Zedic, Jennifer and Derek Worsley, Carly and Tyler Zedic.

Memorial donations in lieu of flowers may be made in Alex's name to The Canadian Cancer Society.
{fastsocialshare}