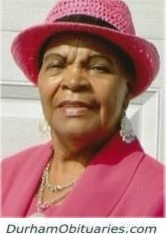 FLEMMINGS, Hazel Alberta Flemmings - A tireless advocate for supporting those less fortunate and an active member within her community, passed away peacefully on Friday, March 8, 2019, 47 days after the death of Vernal Flemmings, her husband of 55 years.
She was 85 years old.

The matriarch of the Flemmings' family, Hazel died on International Women's Day and will forever be remembered for her many achievements, including bringing children and families hope for a better future by sponsoring and helping them settle into a new life here in Canada.
She welcomed many kids who needed shelter into her home over the years, loving and caring for them as her own.

For all her accomplishments, Hazel was most proud of her family. She always put her loved ones first. She was a devoted mother who firmly believed in her values and used life lessons to inspire her children.
As a passionate supporter of her kids, she instilled in them to always take pride in whatever it is they do and no matter what, hold their heads up high. She will be missed by her children who will continue to honour and treasure her legacy: Lynford (Carol), Lester (Sandra), Sandra Arsenault, Paul Hamilton, Lorenzo Walker (Karen) and the late Janice.

Hazel is a cherished grandmother to 17 grandchildren including Sophia, Jesse, Shanella, Steven, Shawn, Shea, Joshua, Kerry, Kyse, Jemall, Tyrone, Samara, Ty, Jayden, Zack, Amari and Jalen.

A great grandmother to 16 great grandkids including Jaiden, Laila, Kayla, Alyssa, Kalani, Savannah, Kyrie, Tianna, Ethan, Elias, Kiya, Kaiden, Lorenzo, Greyson, Kita and Keyara.

Survived by her sisters Enid, Daisy and her brother Gallant (George Messam).

Born in Manchester, Jamaica on June 1, 1933, Hazel Alberta Flemmings will be missed dearly by her extended family and friends, along with the many people she has supported through her kind gestures and good deeds.

Relatives and friends will be welcomed by the Flemmings family at the MOUNT LAWN FUNERAL HOME & CEMETERY , 21 Garrard Road, Whitby (905-443-3376) on Thursday, March 21, 2019 from 2:00 p.m. – 4:00 p.m. and from 6:00 p.m. – 8:00 p.m.
A funeral service will be held at the Whitby Christian Assembly, 100 Rossland Road West, on Saturday, March 23, 2019 at 2:00 p.m. A final viewing will also be held at the church before the service from 1:00 p.m. – 1:45 p.m.

As an expression of sympathy, friends may send memorial donations online to the Whitby Christian Assembly (www.whitbychristian.com/giving/ or text the word 'GIVE' on your mobile phone to 647-951-3277 to receive the donation link.
{fastsocialshare}