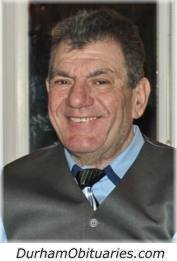 MOTTILE, Vincenzo "Vince" - (November 12, 1955 – January 5, 2021)
Passed away peacefully at home with his loving family by his side on January 5, 2021 after a nine-year battle with cancer.
He was 65 years old.
His parents Pietro and Antonietta welcomed him in heaven with their open arms.
Vince is survived by his loving and devoted wife Ania, loved and respected by his beautiful children Yolanda (Joshua) and Julian (Emily).
He was the most loving Nonno to his dear Jakob.
Loved brother of Rosa (Frank; deceased), Lorenzo (Rosa), Anna (Michele), Concetta (Pietro), Chiaraottile (Gino), Salvatore (Carla; deceased), Antonio (Erminia), Emanuella (Giorgio), Silvia (Dario) and Domenico (Rina).
He will be missed and remembered by his aunts and uncles, cousins, countless nieces and nephews, and great nieces and nephews along with every soul het me along his journey of life.
Vince immigrated to Canada in 1972 and worked in construction for 45 years.
The family would like to acknowledge the relentless dedication of Angel Hare (RPN), Carmela Sortino and Sarah Watson.
Some words of wisdom that Vinny shared with us of "chi va piano, va sano, e va lontano."
Due to COVID-19 restrictions there will be a private family viewing on Monday January 11, 2021 from 2:30 p.m. till 9:00 p.m. and service on Tuesday January 12th at 1:30 p.m. held at the OSHAWA FUNERAL HOME, 847 King Street West (905-721-1234).
A livestream of this service will be available to start viewing at 1:10 p.m. at https://funeraweb.tv/en/diffusions/22385
A celebration of life will follow at a later date, once COVID-19 restrictions are lifted.

{fastsocialshare}