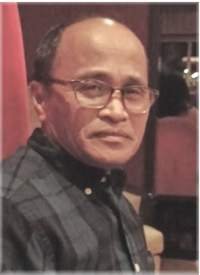 ASUNCION, Manayon "Manny" Asuncion - December 2, 1962 – May 11, 2021
A loving son, husband and father Manayon Asuncion entered fully into the presence of the Lord on Monday, May 11, 2021.
He was 58.
Manny's Christian faith was an essential part of his life.
He spent a great deal of time serving the Lord through his God given talent in music.
Through the years he also gave his time to the church teaching and sharing the Gospel of our Lord Jesus Christ.
Manny was a faithful man who loved the Lord, his family, church, and community. Manny is a humble and selfless individual who always and is able to lend a helping hand.
Up to his last strength, he did volunteer work despite of his health condition as his way of showing his love for others. His battle with medical issues showed his courage in facing life's challenges with a smile.
Despite the pain, Manny stayed strong until the end.
Overall, Manny's life was full of many blessings. He valued and cherished every moment with his family and friends.
He took pride on his children's (Patrick, Aaron, Alyssa) accomplishments and his love for his wife, Ermelita Asuncion is immeasurable.
A beloved son to his parents (Virgilio and Carlina), a caring brother to his siblings (Matda++ and Robert/ Chona and Brucelee/ Virlina and Ronnie/Almendes and Rizza) and a doting uncle to all his nephews and nieces.
Daddio, Kaka, Manong, Uncle, Ninong, Parekoy… we will miss you greatly and we love you! YOU are a great person with a BIG heart.
Due to COVID restrictions, a private funeral service will be held at OSHAWA FUNERAL HOME , 847 King Street West, Oshawa.
Please join us in celebrating Manny's life via the livestream for visitation on Friday, May 14th, 2021 from 5:30 p.m. - 7:00 p.m. and for the funeral service on Saturday May 15, 2021 at 10:30 a.m. Interment to follow.