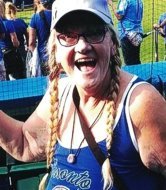 JOHNSON, Lorraine Evelyn (nee McBride) - (July 22, 1956 – February 5, 2019) - On February 5, 2019, our beautiful Lorraine Johnson passed away suddenly but peacefully in her sleep.
Lorraine was the cherished mother of Jennifer Gerrard and the late Doug. Loving, supportive grandmother of Jehan Gerrard and Robin Gerrard.
Beloved daughter of Mary McBride and the late Danny. She was a wonderful sister to Danny McBride (Kris) and Alison McBride.
Lorraine was the fun-loving and caring aunty to Chelsea McBride (Tyson), Kristiina McBride (Stuart), Raul Romero-McBride, Alison May Romero-McBride and Dani Romero-McBride. Proud great-aunt of Lyla Quayle and James Quayle, cousin and second-cousin to a large and loving extended family in the United Kingdom and a friend to so many people and animals who were fortunate enough to know her.

Lorraine's greatest joy came from time spent with our loud, raucous family and her many friends. She remained a playful, free-spirit throughout her life and right up until her final days. She always made it clear that she wouldn't want anyone to be somber or gloomy about her passing as this wasn't her way, so we are all doing our best to honor her wishes.
Accordingly, cremation has taken place and instead of a formal service, a celebration of her life will take place at the MacKinnon Family Funeral Home, 55 Mill St. E., Acton on Friday, February 15th from 1 - 3 p.m.
Since Lorraine loved gardening, hummingbirds, anything purple (occasionally including her hair), the Toronto Maple Leafs and the Toronto Blue Jays, anyone planning to attend is requested to dress casually and wear something to cheerfully reflect her whimsical spirit.
In lieu of flowers, donations in Lorraine's memory can be made to Acton Foodshare or Food for Life.