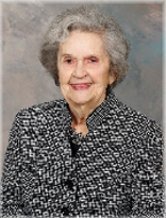 KOWALSKY, Alexandra (Lesia) - Passed away peacefully on Monday, February 10, 2020.

She was born on May 8, 1926 to Wasyl and Emilia (Olesnysky) Yashan in the Ukrainian town of Serafinci. She spent her young years with her parents and older brother Liubomyr in Horodenka, later in Stanyslaviv, Ukraine. While escaping from war-torn Ukraine with her parents, she met husband Dr. Nicholas Kowalsky.
As part of the post-World War II immigration, they came to Canada in 1949 with daughter Tania, briefly living in Toronto, and then settling in Saskatchewan, where Christina, George, Andrew, and Mark were born.
The family moved to Toronto in 1961. Alexandra was dedicated to her family, her church, and to her work within the larger community. The concept of community was an integral part of the Kowalsky – Yashan family values. The family came to Canada with nothing, and while Alexandra worked at creating a warm home for her family, she also became involved in community volunteer work.
In Hafford, SK she started and taught Ukrainian classes. In Toronto, she served on the executive of parent committees of her children's schools and extracurricular activities.
Alexandra's deep faith sustained her throughout life and she was an integral part of her church organizations, serving on the executive for many years. She was also an active member of the committee for establishing the Patriarchy for the Ukrainian Catholic Church and saw this work as one of her most important achievements.
Alexandra's work in local, national, and international organizations was monumental. She was President of the Social Services Committee at the World Federation for Ukrainian Women's Organizations for over 20 years, Chair of Social Services for the Canadian Ukrainian Catholic Women's League and Vice President of the same. While serving on the executive of the World Congress of (Free) Ukrainians, Alexandra was instrumental in establishing the Commission for Human Rights, later serving as the committee's Vice-Chair for over 20 years.
Her greatest satisfaction came from lobbying for release and organizing aid for political prisoners in former Soviet Union in the 1970s and '80s, and addressing the particular needs of women political prisoners. Upon their release, many former political prisoners were able to visit and thank her personally for her tireless work on their behalf. Alexandra was instrumental in expanding the program for visits to seniors through the Ukrainian-Canadian Social Services. She continued to visit seniors in nursing homes well into her 80's.
In recognition of her volunteer work, she received: The Pro Ecclesia et Pontifice from Pope Paul II, Province of Ontario Volunteer Service Award at Queen's Park from the Lieutenant Governor of Ontario, The Memorial Shevchenko Medal, and Honorary Life Membership in the World Federation of Ukrainian Women's Organizations.
Alexandra will also be remembered as a loving mother and wife who drove her children to early morning hockey practices, sewed costumes for school and dance concerts, and helped out in her husband's medical practice. Her love and kindness encompassed the larger extended family overseas; reconnecting with them brought her great joy and peace.
All who knew her admired her kindness, graciousness, and her radiant smile.
Predeceased by her husband Nicholas and son Mark.
She will be sadly missed by daughters Tania (Bohdan) Onyschuk, Christina Kowalsky (Wiktor Moskaliuk), sons George (Debra) and Andrew (Marta), beloved grandchildren: Motria (Victor Morozov), Tamara (Peter Elyjiw), Tamara and Daniel Moskaliuk, Katerina Kowalsky-Perez, Julia ( Felipe Aguirre), Alexander (Samantha), Nicholas, Stephanie (James Scaglione) and great-grandchildren – Zirka, Kvitka, Danya, Mark, , James, Anthony, Rosemary, Enzo, Rayen, Brooke and Jack.
She leaves behind many nephews, nieces, and cousins in Canada, Ukraine, USA, and Australia.
Visitation will be held at Cardinal Funeral Home, Annette Chapel, Toronto on February 19, 2020 from 5:00 PM - 8:30 PM. The service will take place at St. Demetrius the Great Martyr Ukrainian Catholic Church, 135 La Rose Avenue, Toronto on February 20, 2020 at 10:00 AM

Donations in lieu of flowers to the Crohn's and Colitis Foundation or Canada-Ukraine Foundation – Medical Mission.

{fastsocialshare