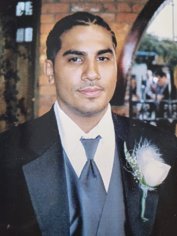 LOKAISINGH, Leandro Ricardo - (January 9, 1979 - March 23, 2020.)
Passed away suddenly at home in Brampton on Monday, March 23, 2020.
Loving son to Bob and Noris. Beloved brother to Liana and her husband R.J. Khan. Dearest uncle to Ariela.
Sadly, missed by his aunts and uncles Tara and Deo Persad, Myrna Ramcharan (predeceased husband Winston Ramcharan), Cynthia and Peter Meighoo, Boya Lokaisingh and his partner Glory, Indra Lokaisingh, Rosa Lokaisingh, Vashty Lokaisingh, Patricia Lokaisingh, Ron and Karen Lokaisingh, Luis Velasquez, Sonia Velasquez and Themar Fornoza (Difunto), Bernis Velasquez and Helena Magallanes, Ernesto Velasquez and Nelly Burgos, Franlin Velasquez, Marleni Portillo, Diogines Velasquez and Eva Farinas and cousins Kirk, Sean, Karen, Desmond, Warren, Adele, Suzette, Kevin, Devon, Ashley, Nigel, Faith, Sarah, Emma, Liam, Helena Mercedes and Carolina, Karem Fornoza, Anna Karina Fornoza, Kathy Fornoza, Eduardo Velasquez, Maria Mercedes Velasquez, Aida Mercedes Velasquez, Glayner Mercedes Velasquez, Franklin Junior Velasquez, Bernis Jesus Velasquez, Carolina Velasquez, Krsmer Velasquez, Shany Velasquez, Diodenes Junior Velasquez, Chris Velasquez, Glevis Lorena Hernandez, Luis Eirique Hernandez, Ened Mariela Hernandez, Blanca Marlene Hernandez, Alexander Hernandez, Bernis Jose Hernandez, Angel Matute, Jose Enrique Matute, Edgar Matute, Mariano Matute, Miriam Matute, Marby Beatriz Aray Bello, Carlos Ivan Brito, Jose Amadeo Aray Brito, Jose Andres Aray Gomez, Angel Aray, Bedimar Aray, Celsius Aray, Zeus Aray, Betsy Aray, Belkis Del Pino.
Arrangements with Andrews funeral home, Brampton. Private family gathering was held April 1st.
{fastsocialshare