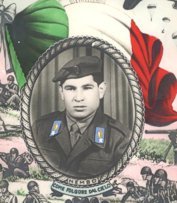 CIARALLO, Franco - The Life and Times of Franco Ciarallo
Franco Ciarallo (my dad) was born on October 10, 1935 in Sant'Angelo, Limosano, Italy to parents Giuseppe and Laura Ciarallo. He lived most of his young life in the small Italian town working the family farm. This town resembles a medieval town on top of a hill over looking the beautiful Italian countryside.
On October 2 1960, he married my mother Gaetana (Tina) nee Marone from the same small town. Together they have been married for almost 60 years and had three children John, Claudio (deceased) and myself Laura.
My father immigrated to Canada on October 31, 1963. This was not an easy journey as my dad took any manual labour job he could, endured discrimination and hardships. My dad never waivered and continued to make sacrifices, eventually obtaining a job with the TTC where he worked for over 30 years until he retired.

In time he was able to purchase a home, eventually moving up to Woodbridge. Eventually, he was also able to purchase a cottage for his family to enjoy. My father loved entertaining his children and grandchildren at the cottage. All his grandchildren enjoyed the camp fires, days on the beach and BBQs with Nonno. They all learned how to play bocce , it didn't matter if you were 4 or 20 he never gave you inch – that measuring tape came out to see if his ball was closer. He was an avid gardener and his garden was legendary both at the cottage and at home.

My dad worked hard but he loved a good party. He was always the life of the party. Loud, over the top, dancing and singing, never sitting down. He loved a good card game and our extended family has many fond memories of those nights. His gregarious character led him to have many friends which brought much joy to him whether on vacation or sitting around a dinner table telling jokes.

My dad endured many hardships the greatest of which was the loss of my brother Claudio. Through it all he remained steadfast in his faith in God and lived life to his fullest.

Dementia entered our lives and grabbed hold of my father's mind with a tenacity and speed no one could have predicted. It stripped away his memories, his physical abilities and his dignity. In the end what remained of my father was a shell, void of the spirit that made him the man he was.

My father lived his life on his own terms, he was loud, he spoke his mind and he would tell you the truth whether you wanted to hear it or not. In this way I am truly my father's daughter. This is the man we will all remember.

My father leaves behind his wife Tina, sons John (Rose), Claudio (predeceased) (Mary), daughter Laura (John). Grandchildren Frank(Shannon), Catherine (Carmen), Sabrina, Sara, Samantha, Victoria, Isabella and Daniele. Great grandchildren Eliana, Peter and Sandro.
He also leaves behind brother Angelo(Nina), sisters Incornata, Cristina (Marcello). He leaves behind numerous nieces, nephews great nieces and great nephews.
Arrangments with Ward funeral home, Woodbridge chapel.
{fastsocialshare