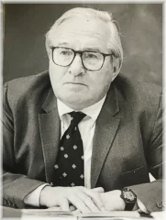 BREDIN, Terence Patrick O'Donelan - Our father, died peacefully at his long- term care home in Toronto on May 26, 2020.
Predeceased by his father Edward Robert Bredin and his mother, Lucy Marion Bredin (Ross Lewin).
Terence was born in the village of Ulcombe in Kent, England. He was a triplet but, of the three, only he and his dear brother, Robin Hugh Noble Bredin, survived the birth. He is also predeceased by Robin and his older brother Rodney.
He was a keen student from a young age and attended Harrow School and then later Corpus Christi College, Oxford, graduating in 1951 with a degree in Classics. After that he spent his National Service as a Second Lieutenant in the Essex Regiment, training with the Royal Fusiliers, which at the time – to his great excitement – was based in the Tower of London. He was then shipped out to Korea with his regiment, but by the time they had arrived by boat the war had ended. He went on to teach briefly in pre-apartheid South Africa and while he loved his time there, could not condone the political situation and returned to England.
The Canadian chapter of Terence's life began in 1959 when he took up a teaching post at Upper Canada College in Toronto – or "Avenue Road Collegiate" as he sometimes liked to call it. This was to be the making of him professionally and the beginning of 36 happy years of teaching in the senior school. He loved teaching Latin and Ancient Greek to his students. He also loved coaching: rugby and cricket and downhill skiing, despite not being able to ski himself. He was a great proponent of the value of learning Latin at any age and that having a background in Classics was the way to a richer and more laterally connected life. It was a dark day for him when Latin was superseded by computer science as a mandatory subject for Grade Nine students but Latin did not die and, by then anyway, his reputation as a fine and inspiring – if somewhat eccentric – teacher was cemented and he remained happily as the "Head of the Classics Department of One", and latterly Senior Master, until his retirement in 1995. He was to make many life-long friends of students – Old Boys – faculty and staff over the years he spent at U.C.C. and not long after he had arrived he was also to meet our mother, Elizabeth (Ben) James, of Port Hope, Ontario, who was working as a helper to the school nurse at the time, Miss Bee. He knew our mother was his perfect match when they discovered that each of their fathers was missing an arm – a farming accident in one case and a fall from a crowded railway platform during WWI(our father's father) the other. He remembered that our mother's parents were not as certain about the match and rather regarded him as something the "cat might have dragged in", this Englishman with a terrible case of five o'clock shadow come to whisk away one of Port Hope's beauties.
My father's life was filled to the brim with a rewarding job and then a lovely wife and three children, Mary, Robin and Helen. As different as our parents were in personality, they shared a love of the arts, especially theatre, opera and Taffelmusik, helping in the community, going to church, time at the Schoolhouse in Orton, and traveling – especially a year-long sabbatical in Ireland in 1975 (all of the family travelling far and wide in Europe in a VW bus). His favourite hobby was reading, but he enjoyed cross country skiing, picnics, the radio and going to the movies on Friday nights. All of which they found more time for when he had retired.
My father's deep dedication to our mother was demonstrated in his care of her over the course of ten years as she succumbed to dementia. This was at a great personal cost and there was a time when we thought we might have also lost him but, with great fortitude and the help of family and old friends – many from U.C.C. and Christ Church Deer Park, he returned to the crease, almost as good as new. The balm of his favorite poetry, books and his faith, which had seen him through the early loss of his dear brothers and mother helped him again. Although adjusting to life in a retirement home without our mother – his wife of 48 years – who died in 2008, his zest for life returned and he became busy reconnecting with friends, holding Latin appreciation classes, teaching bridge, lunching with the Oxford and Cambridge Society – making new friends at these occasions – trips to New York for reunions of Harrow School, taking up numerous kind invitations from U.C.C to say a Latin grace at a special event (and occasional translation work), swimming on the weekends with Rory, one of his grandsons, and travelling to England to see his youngest daughter and English-son-in-law, Jim Drury and his granddaughter Lucy. In England he always visited his favourite old haunts – Hastings, Rye and Romney Marsh to name a few and meet with his English cousins on both sides of the family. He indulged his passion for ancient churches, historic buildings, interesting ruins and visits to the pub with his son-in-law where they mutually appreciated English beer.
He will be remembered as a walking dictionary, with a photographic memory, wry sense of humour and brio.
Five years ago Terence suffered a series of strokes. He was no longer the raconteur of old but was brave and dignified until the end. There were still happy times, his youngest grandchildren Vivian and Julian now on the scene. Visits with them were a highlight of this part of his life. Even in decline he made new friends, with a crew of very caring professional therapists who came to massage, exercise with him, read to him and show him videos of Winston Churchill and Harrow-on-the-Hill. Even then they said that they enjoyed his company, could tell he had been a teacher and had learned something from him. Old friends – often dedicated former students – visited and felt that his character still shone through in a look, smile or brief wry comment. He made his last trip to Upper Canada College in November 2019 for the former teachers and staff lunch. Four weeks before he died, ill with pneumonia, as his nurse adjusted his oxygen supply, he told her "Don't worry, I'm not ill". He recovered from pneumonia but was now very frail with a bad heart and finally, peacefully, on the evening of May 26th he was bowled out. He had enjoyed a very good innings and leaves many dedicated supporters. Terentius, rara avis ave atque vale!
With many thanks to all the caregivers, nurses and doctors along the way, especially Minerva and Samantha and the caring staff who helped him at Cedarvale Terrace.
A memorial service will take place when we are allowed large celebrations again. He would want many to remember him with joy.
If you would like to make a donation in Terence's memory – UCC now has a scholarship in his name or donations can be made to The Stop, Covenant House, Christ Church Deer Park, The Scott Mission, Mission to Seafarers or The Toronto Historical Society.

{fastsocialshare