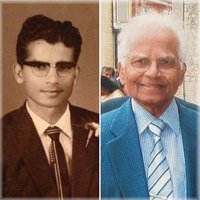 JEEVARATNAM, Wijayaratnam P. S. - Former teacher at Saint Xavier's Boys' College (Mannar, Sri Lanka), fondly known as Jeeva Master, was called to rest on Wednesday, May 27, 2020.
He was the dear husband of Sabina Ranjini Jeevaratnam (nee Ponrajah).
The beloved father of his daughter, Suchitra (Marie) and son-in-law, Ratna (Ivan) Jeganathan.
The endearing grandfather of his grandchildren: Moire and Joshua.
His outgoing personality, pious demeanor, and soulful voice will be deeply missed by all.
Viewing will be held from 7 pm to 9 pm on Sunday, May 31st, 2020 and 8 am to 10 am on Monday, June 1st, 2020 at Chapel Ridge, Markham, ON.
Due to the current circumstances, the viewing is strictly restricted to a maximum of 10 people in the building (funeral parlor) at any one time.

If you wish to attend, please fill out the following form for each person who will attend: https://docs.google.com/forms/d/e/1FAIpQLScXu4hGzG3alN_pZ3SVRL120WWiJ7ZS9T7LgkwBafOxnS9phA/viewform?usp=sf_link, you will be required to be registered with the parlor prior to the start of the viewing, as mandated by the government. Please note that if your name is NOT on the registered list, you will not be permitted to enter and the document will be submitted on Saturday, May 30th, 2020 at 9:00 pm sharp. Also due to the Covid-19 regulations, the funeral mass and burial will be restricted exclusively to the immediate family.

{fastsocialshare