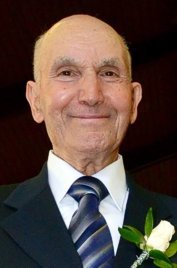 De GASPERIS, Vincenzo - With great sadness and heavy hearts, the family of Vincenzo De Gasperis announces his passing peacefully on Tuesday, June 2, 2020 with his eldest daughter by his side, at the age of 93.
He was born in Sora, Frosinone, Italy on October 26, 1926 and is reunited with his beloved wife, Pasqua of 71 years.
Adored father of Domenica (Carlo Fiorini), Santino (Gaetana) and Esther (Nick Marchesani).
Cherished Nonno of Patricia (Silvio Lanni), Sonya (Mike Caron), Stephanie (Steve Senderovich), Vince, Paolo (Mary) and Christina (Sal Coniglio). Proud Bisnonno to Paolo, Anthony, Robert, David, Daniela, Nicky, Vincenzo, Matteo and Luca.
Loving brother of the Late Luigia and Santina. Brother-in-law to Gina and the late Giusppe Di Pede and the late Vincenzo and Maria Di Pede.
An immense thank you to Dr. J. Giddens, nurses, PSW's and staff at Weston Terrace Care Community for taking care of our father in his final years.
Due to the current unprecedented COVID-19 pandemic, a Memorial Mass will be celebrated at a later date when it is safe to do so.
In lieu of flowers, and in memory of Vincenzo, donations may be made to The Lung Association, Autism Ontario or a charity of your choice. Arrangements with Delmoro funeral home.
Dad came to Canada August 1956 with mom and Esther. Rest of the family joined later. He worked as a carpenter with LIUNA Local 506 for 35 years until retirement.
Our dad was a gentle, kind soul and a true gentleman who loved his family with all his heart. Dad was very religious with a strong Faith in God. Mass was every Sunday as a family and it came first before anything else. He was a great story teller and would sit his family down and talk about the old days. His stories always had a lesson to be learned.
Dad loved nature and bought a camping trailer. We had many family outings going to picnics. His trailer later became a storage unit in the garage and a place to ripen tomatoes from the vegetable garden to make pasta sauce.
Our dad had a great sense of humour and loved to make us laugh with his antics and playing his harmonica. He sometimes played his harmonica at the nursing home on music night, where he was known as "papa". Every time we visited at the nursing home he would always ask about his grandchildren and great grandchildren. We never left without a "thank you for coming".
You could always find him in the backyard gardening or building something in the garage. We remember at mealtimes mom had to call him several times, so to fix that, he put a bell outside on the clothes line so that he could hear when it rang it was time for lunch or dinner. He was a natural craftsman who loved to learn about new inventions and could build almost anything he set his mind to with precise perfection. He loved mom's cooking and would often call her his "Bride" and brag how he was a few years younger than her.
Those who knew our dad saw his love of life and a man who wouldn't stop at anything to help his family. Our dad lived a long life and he touched our hearts in so many ways we will never forget. His presence and infectious smile will be sadly missed but his soul is now free and at peace. We love you. Now and forever.
{fastsocialshare