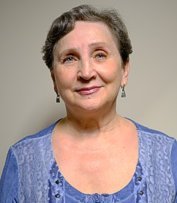 SMYRNOVA, Lyubov - God called Lyubov home to heaven on July 2, 2020 at the age of 67.
She will be forever cherished by her dear daughter, Tetyana (Slava Rychkov). Proud grandmother to Maria and Daria.
Lyubov will always be remembered by her brother Andrii Pozharskiy.
She will be held dear in the hearts of her family, relatives, and many friends.
Funeral Arrangements with visitations and service will take place at the Vescio Funeral Home Maple Chapel, on Saturday July 4th from 8:30 – 10:30 a.m. Interment to follow.

Бог призвал Любовь домой на небеса 2 июля 2020 года в возрасте 67 лет. Мы вечно будем помнить нашу замечательную маму и бабушку.
Она будет жить в сердцах ее близких, родственников и друзей.
Доброту и любовь мама детям дала,
Но внезапно, как Ангел, на небо ушла.
Пусть хранят небеса вечно душу ее,
И от сердца тепло к вам все время идет.
Мама в памяти, рядом с родными детьми,
Рай пусть станет наградой за прожитую жизнь.
We are encouraging all friends to come to the funeral home during the visitation periods if you are comfortable and meet us at the church for the funeral Mass.
We are asking for only the most immediate family members to join us at the funeral home on the funeral day and at the cemetery only.
{fastsocialshare