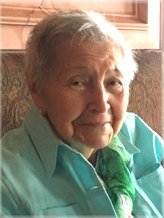 MORRISON, Dorothee Lucienne (Stewart) - January 31, 1926 - July 7, 2020 - Passed away peacefully in her daughter's home in Aurora on the evening of July 7, 2020. She was 94.
Born in Woodbridge, Manitoba in 1926, Dorothee was one of nine siblings living on a farm in rural Manitoba where she learned to live off the land, shoot a rifle and ride bareback. At the age of 17 (1943), she moved to Toronto to live with her sister Mary, and worked at a factory supporting the war effort.
She settled in Toronto, where she met her husband Frank and had 6 beautiful children - Brenda, Bernice, Sher, Cathie, Cameron and Wendy.

Dorothee was a loving wife, mother, grandmother and great grandmother who always had a wonderful smile and cup of tea ready for anyone who stopped by for a visit. And she helped many people along her nearly century-long journey. She was a wonderful cook and a fabulous baker. She loved her dog Yuki given to her by her daughter Cathie, spending time in her garden, bird watching and going on adventures as often as she could. She loved to travel, with several road trips to California (with her dog Benji) and a dream holiday to France and England in 2011.

She was a strong-willed, intelligent and resourceful woman, surviving two heart attacks, the loss of two loved ones, stage 4 cancer at 80 and two hip surgeries in her 90s. She never lost her sense of humour and love of life and family. We are forever grateful to the amazing PSWs - Maribel, Mag, Jennifer and Gladys - who took the best care of her over the past few years and showed her so much love and kindness.

She is predeceased by her husband Francis William (1980) and daughter Cathie (2009).
She is survived by her daughters Brenda, Bernice, Sher (George) and Wendy (Catherine) and her son Cameron (Pauline), along with 13 grandchildren and a number of great-grandchildren.

Funeral services will be held on Monday, July 13, 2020 at McDougall & Brown Funeral Home, Scarborough.
In lieu of flowers, donations can be made to your local animal shelter or pet adoption agency.

{fastsocialshare