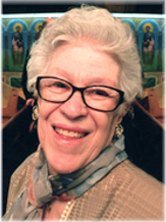 VASMANOLIS, Despina Thelma - Passed away on Monday, August 3, 2020.
Thelma was born in Samos in April 23, 1929. Her parents were Emmanuel & Eleftheria.
She was the youngest of 4 children Mihalis, John, and Mary who are now all deceased.
She wanted a better life from the hardships of what post war Greece had to offer and immigrated to Toronto in search of better opportunities.
She worked for a Greek Macedonian family in Toronto who owned a number of downtown restaurants.
She took care of their three children and lived in as a nanny. She was very much loved and a part of the family for years to come. Her kind, friendly and loving demeanor made her a natural care giver.
Once settled she sponsored her older sister Mary her husband Gus and their son George who also immigrated to Canada. In years to come she also helped her mother Elefteria immigrate and care for young George whose parents were trying to get a foothold economically in Toronto. Mihalis her older brother followed years later and that set the family on a new life path in Canada.
Thelma had been corresponding with Vasili Vasmanolis a good friend and soccer teammate of her older brother Mihalis in Samos. The two decided to wed and arrangements were made for Vasili to immigrate to Canada. The couple married at the Geek church St. George in Toronto. She and her husband had a successful and happy marriage until Vasili, "Bill" passed away on March 21, 2008.
She leaves behind her daughter Mary who has attended to her needs to the end, along with her husband John. Also her nephew George and his wife Emely, her niece Anna and great-niece Alexa, nephew Mike and wife Krista.
She will be forever in their hearts. In lieu of flowers, donations can be made to the Hellenic Home for the Aged.
Arragnements with Bernardo Funeral Homes , Toronto. Private Funeral Liturgy.

{fastsocialshare