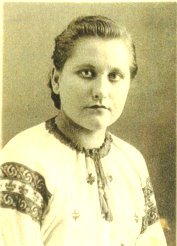 MAKOWENSKY, Anna (nee Labaj) - (March 12, 1923 - August 10, 2020) -
Born in 1923 in the town of Ustrzyky, in the southern corner of Western Ukraine. Today this area is part of southeastern Poland, and is a major tourist area for outdoor activity.
As a child she would walk the 18 kms to visit her aunt and uncle who lived on a farm across the other side of the mountains. At an early age, not gaining much from school studies, Anna went under the tutelage of a seamstress to learn a trade. She was quite successful and proficient at sewing.
In 1941 after the war had broken out and the Germans came to her town, she was sent away to Germany to serve as slave labour in a textile mill, in Bremen. For the next 4 years she experienced all the horrors of war from constant bombing, leaving the shelter in the morning, stepping over bodies, to go to work in the mill. This is where she met Michael, was married, and for 3 years after the war lived in a displaced persons camp.
Bohdan, (Bob) was born in 1946, and then, in 1948, the family was finally allowed to leave Europe and come to Canada. Sailing on a returning troop ship, they arrived in Halifax in 1948, boarded a train, not knowing any English, and travelled through Montreal to Toronto, where they were sponsored by her husband's Aunt and Uncle. For almost 3 years they worked on the farm, and then left, to find their own residence, ending up working and living on another farm, where they picked and packed vegetables. In 1952, a second child, Roman, was born, and the family of four were still living in a one room shack on the farm.
A year later her husband Michael, went for a walkabout and bought a house, where the family lived, until poor health forced her to leave, in 2017. For over 60 years she enjoyed gardening, raising vegetables, and flowers, chickens, and looking after her family. After her husband passed away in 1976, she took over his Apiary activity, and kept bees for the longest time.
A great cook, she made incredible Ukrainian meals for her family, while also celebrating her background during holidays. Anna was very religious, and instilled that in her family with nightly prayers, and activities at church. When a new church parish in Scarborough was proposed, Anna and her husband were involved in meetings to get things organized.
Throughout the whole time, she was a member of the church Women's League, helping the other ladies with their charitable deeds. From packing parcels for donation to the needy, to volunteering in the kitchen to help make the meals produced by the League. Her potato soup seemed to be a winner, when everyone sat down for a break. Later on, her attendance at the annual tea brought out the gardener in her at the plant table.
Anna had a lovely voice which was put to use in the church choir. She never lost her faith, even though the ravages of time, took its toll on her body. Eventually she gave up walking, and was forced into a life which required constant care. Unfortunately, at her age, many of her friends, and fellow parishioners have also passed away.
Anna Makowensky (nee Labaj) leaves behind two sons, Bohdan (deceased), Roman, daughter in-law Shelley, four grandchildren; Andrea, Paul and spouse Nicole, Julianna, Krystianna, and three great grandchildren; Jayden (Julianna), Owen, and Lorelai (Paul and Nicole).
Arrangements with Ogden funeral home, Scarborough. Burial is to be at Glendale Memorial Gardens, Etobicoke.
{fastsocialshare