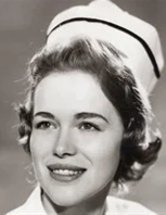 WEISSENGRUBER, Ann (Ireland) - RN - Born in Burlington, Ontario, November 9, 1940. Sadly, on August 7, 2020 our beloved Ann passed away due to respiratory failure. She had been seriously ill for a number of months.
She is survived by her husband Max. They enjoyed a unique marriage of almost 55 years.
She also leaves her three devoted sons, Erik (Robin and granddaughter Tabitha), Jon (Tara) and Adam (Gail) plus her three remaining Ireland brothers Jake (Debbie), Robert (Sue) and Michael (Jackie).
Her elder brother Jim (Irene) pre-deceased the sister he loved and in whom he took great pride.
Because she was raised with four energetic brothers, Ann was well equipped to ride herd on three sons and an often-hapless husband, Max.
After graduating from Hamilton General Hospital's School of Nursing in 1961, Ann worked in Labour and Delivery at Toronto General Hospital. She then attended University of Western Ontario to study advanced nursing instruction. Later, at Toronto Sick Children's Hospital, she worked ten-hour days as a nursing instructor.
Ann retired from nursing in 1968 to concentrate on raising three sons, which was always her significant life's desire.
Two days before Ann's passing, she and Max entertained St. Mike's patients and doctors with several songs from the musical Guys & Dolls: If I were a Bell, Luck Be a Lady Tonight and Take Back Your Mink (whereupon she cracked "You never gave me a mink.")
For those of the many who knew her, the world will be a less welcoming place but we are able to take heart from the words of a song by Irving Berlin,

The song is ended, but the melody lingers on
You and the song are gone
But the memory lingers on.

Ann chose cremation and a safe private ceremony in lieu of a funeral service.
A donation may be made to the SickKids Foundation, 525 University Avenue, Suite 835, Toronto, Ontario Canada M5G 2L3.

{fastsocialshare