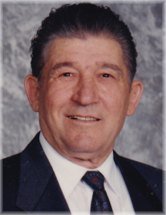 BATTISTEL, Giovanni - On Thursday September 17, 2020, Giovanni, loving husband, wonderful father of two and proud grandfather of three, passed away at age 96.
Giovanni was born on February 19, 1924 in Vilotta di Chions, Pordenone, Italy.
He was a tenant farmer in an extended family of 18.
He believed a better life existed, so, at age 19, he travelled to Yugoslavia and became a tunnel digger.
He used explosives to blast through mountains to create train and street passages.
After returning to Italy to complete his military service obligation, he left for Belgium to work in a coal mine. He then moved to Switzerland and found a job farming.
In 1952, he boarded a ship to Canada. He was sponsored by the Canadian government to work for the Canadian Pacific Railway as a navvy. He chose to leave that occupation and briefly tried bricklaying.
He moved to Bradford, Ontario and farmed in Holland Marsh. During this time, he discovered he loved carpentry. He returned to Italy briefly and married Elena in 1956. They decided to make Canada their home. Eventually, they settled in Toronto.
Giovanni is remembered as a kind and generous person, with a smile on his face and a marvellous sense of humour. He was always ready to help family and friends. His fierce determination to succeed enabled him to realize his greatest accomplishments: raise a family and own a house.
Giovanni is survived by his wife of 64 years, Elena, his two daughters, Sue and Nancy (John) and grandchildren Eric, Madeline (Shake) and Lucas.
Arrangements with DeMarco Funeral Home, Toronto.
In lieu of flowers, a donation to the Heart and Stroke Foundation is appreciated.

{fastsocialshare