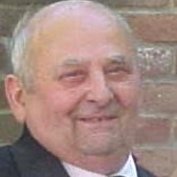 De MARCHI, Severino - After a long, glorious life rich in the love of family, friends and community, Severino De Marchi, in his 89th year, gently passed away in the early hours of January 10, 2021 at William Osler Etobicoke campus, reunited in eternity with his beloved wife, Maria.
Left to mourn his passing is his heartbroken family, son Claudio, daughter Marilena, daughter-in-law, Laura and grandchildren, Ariana, Giordano, Marcello and Graziano.
Severino leaves behind a wonderful legacy of a man who was bigger than life, a born leader and a person of principle and dedication, who always put his family and his friends first.
Severino was born March 26, 1932 in Grantorto, Padova, the oldest of six boys, who grew up into the humble life of a farmer, taking time out for military duty as an Alpino telegraph operator before returning to the family work.
The young man was known for his stoicism and diligence to his work, but he did harbour a secret - a love of dancing. And so one day, while at a local hall in Cecchini, Fruili, where he had recently moved, he spotted a beautiful young lady and asked her to dance.
Maria danced her way into Severino's heart forever, and they married shortly afterwards.
Their son, Claudio was born in Italy when the decision was made to emigrate to Canada for a new life and fresh new beginnings, and so, in the mid 1950s, the young family first found their way to Windsor, Ont., where Severino worked as a bricklayer, later moving to Toronto to join thousands of other young, like-minded new immigrants to help build the Toronto landscape.
It was during this time that Severino saw first-hand many of the injustices to these same young men that the burgeoning construction industry was responsible for, starting with dangerous working conditions, poor pay and the ill treatment of the workers.
Galvanized by what he saw, in 1960 Severino was one of the first involved in the Carpenters' Union Local 27, taking on his proud membership, and a life-long commitment to the well-being of fellow union brothers.
It was a membership he cherished and was proud of the companies he worked with. Leader Masonry and forming, Avenue Structure and Structform Group. The Toronto Eaton Centre, Yorkdale, First Canadian Place and Mississauga's Square One, are just a handful of the many projects Severino was proudly involved with.
Severino loved his work, but he loved his family more, and nothing made him happier than spending time with his beloved grandchildren, or puttering around his beautiful gardens - his Etobicoke home was rich in the beauty of flowers and an envious vegetable garden where he even grew artichokes!
He would always look forward to excursions that involved hunting and fishing with his family and friends, and helping create a feast afterwards. He loved wine making, and creating his own grappa. He was a man of many talents and filled his days with memorable events that he carried with him always.
He faced life's challenges head on, but his most difficult was the sudden loss to illness of his cherished Maria, who died twenty years ago next month. He never really recovered from her death but, with the love and support of his family, Severino soldiered on.
But, even though his smile was sweet, and his handshake firm, one could always sense this mantle of sadness over this lovely man's shoulders, or catch a glimpse of it in his green eyes. One suspects he is now safely back in Maria's arms, now dancing their way through heaven.
The family would like to take this time to thank the members of Villa Gambin and William Osler Health Centre.
Due to Covid-19, funeral details are in the capable hands of Scott Funeral Home Woodbridge and Glendale Memorial
There will be NO OPEN PUBLIC VISITATION

Funeral Service Friday, January 15th, 2021 at 1 p.m. Scott Funeral Home Chapel
The Funeral Service will be Livestreamed. To join the congregation please copy the link below into your web browser
www.livememorialservices.com/Home/ServiceDetail/9634

Private Entombment Friday, January 15th at Glendale Memorial Gardens following the Funeral Service
Covid-19 Restrictions Still Apply/Limited Seating Availability
Physical distancing and wearing a mask will be mandatory for all guests. Due to physical distancing restrictions, the maximum capacity in our visitation suite is 10 people including family. Due to these restrictions, screening of all guests attending will take place prior entering the building.
For more information, please visit the Bereavement Authority of Ontario's (BAO) website, a government delegated authority and regulator for the bereavement sector, https://thebao.ca/category/registrars-directives/
{fastsocialshare