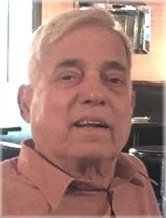 MATHIAS, Goldwyn Lionel Jerome - With great sadness, we announce the passing of Goldwyn Mathias, age 84, who passed away on Wednesday April 7, 2021 at North York General Hospital.
He will be deeply missed by his wife of 58 years, Cherrie Rita Mathias (nee Lopez), children Rochelle (Peter), Burl (Wendy) and Desirée, and grandchildren Jacob, Madison, Kyla and Lucas.
He is also fondly remembered by his siblings Celine (Maxim), Evelyn (Valerian), Mervyn (Isabelle), Edwin, Ilene "Shanti" (Brian), and Oswin (Deborah).
Goldwyn was preceded in death by his son Pierre.
Born July 2nd, 1936, in Karachi, British India, son of Cyprian and Hilda Mathias (nee Gonsalves), Goldwyn always had an incredible zest for life and a big heart. During his youth, he was an active member of St. Patrick's Cathedral boys' choir, an avid boy scout and bagpiper for the St. Patrick's high school band.
In 1953, he left Karachi to pursue his desire to join the Merchant Navy in Bombay, then returned to continue his studies in Engineering. In 1955, while still in college, he showed a strong business inclination and began a business in manufacturing plastics.
Later, he manufactured steel office furniture which he sold to the English company Roneo Vickers.
In 1974, he migrated to Canada with his wife and 4 children and resided in Toronto.
He continued his entrepreneurial spirit and started up a successful office products company, Cherrigold Limited, which sold products to the Canadian government. Determined, hard-working, and compassionate, Goldwyn had a strong love for business, politics and technology, and nothing made him happier than a lively debate on CNN, a visit to the Apple store or a cold beer on a hot summer day with his wife on the front porch.

A funeral mass and memorial service will be announced at a later date.
For online condolences please visit www.aftercare.org/obituaries/Goldwyn-Mathias/#!/Obituary.
As an expression of sympathy and in lieu of flowers, donations may be made to the Canadian Heart & Stroke Foundation.

{fastsocialshare