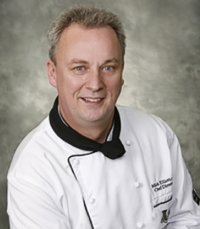 ELLIOTT, Chef Michael 'Mick' C.C.C, M.Sc. - (November, 25, 1960 – April 6, 2021) -
It is with profound sadness that the family of Chef Mick announces his passing on Tuesday, April 6th, 2021 at the young age of 60.
Chef Mick will be missed tremendously by his wife Ana Paula and their wonderful children, Joshua, Courtlind, Anapau and Nathan, and his beloved Golden Retriever, Bailey.
Predeceased by his parents, John and Nancy Elliott and his sister Maureen, Chef Mick will be forever missed by his siblings, Linda, Lorraine, Jackie, Gary and Judy, his in-laws and his nieces and nephews, all of England.
Chef Mick will also be lovingly remembered and missed by his in-laws, Manuel and Hortensia Cesar (Tito & Tita), his sister-in-law, Hortensia Cesar (Pekka) and his nephew Kyle, as well as his Mexican family and friends.
Chef Mick was born and raised in Newcastle, at the northeast end of England. He attained the status of being ranked among the top three chef instructors in the world. He was a graduate of the "City & Guilds" in London, England and apprenticed under Chef Anton Mossimann at the Dorchester Hotel in London. Chef Mick achieved the acclaimed designation of Certified Chef de Cuisine (C.C.C.) and was a Certified Red Seal chef along with his Executive Master of Science Degree in Culinary Chef Administration (M.Sc).
As a former Executive Chef of The Queen Elizabeth II, a luxury cruise liner, and Executive Sous Chef of "Little Dix Bay," a 5-Star Resort in the British Virgin Islands, Chef Mick attained international status. A chef of great skill and finesse who earned a reputation for gastronomic brilliance, Chef Mick had a passion for all things local, and his creativity with culinary techniques, specifically his patisserie skills, is unparalleled.
He received numerous medals and awards for culinary excellence in regional and international competitions, televised series, contributions to culinary textbooks, and associations with various advisory boards within the food industry. Chef Mick won various Gold, Silver and Bronze medals in Atlantic Canada and the United Kingdom, Channel Islands, U.S.A, and British Virgin Islands, the Nisod Excellence Award from the University of Texas, as well as being one of the host chefs for the 1988 Winter Olympics in Calgary, Alberta.
Chef Mick's joy came from inspiring enthusiasm in student chefs of all ages, which led him to instruct culinary programs at various colleges in Ontario, and he was extremely proud each and every one of his students.
However, Chef Mick's biggest pride was his family, his wife Ana Paula, his four children, and their beloved pet. He was an exceptional and loving husband and father, who never hesitated to shower his wife with unexpected gifts and tokens of love, and who never missed a single ballet class with his daughter Anapau, or a single sports game with his sons, no matter what time it was or how far it was.
Chef Mick enjoyed every moment of his life, he loved traveling and adventures, he liked going to the beach (especially in Acapulco), going to the movies with his family, watching soccer games and cheering for his New Castle team. Chef Mick liked motorcycles and enjoyed watching Star Wars with his children, and playing and wrestling with all of them. He was the head of the house, as well as at times, the 5th child.
Chef Mick always put others needs in front of his and lived to make others happy, he never passed an opportunity help those in need. He was passionate about helping children and adults with disabilities and up to his last days, while at the hospital, he was planning of ways to help others who were hospitalized as well.
Chef Mick touched so many lives and is an inspiration and leaves behind a legacy of family, love, friendship and hard work and will forever be remembered, loved and missed.
As you always said, Make it Sexy Chef Mick!
Respecting the current situation and pandemic restrictions, the Funeral Mass will be private. Arrangements and funeral livestream details with Ward funeral homes, Weston Chapel, Toronto.
{fastsocialshare