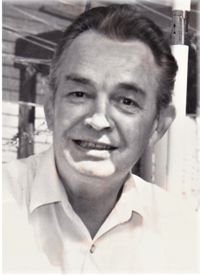 MITGES, Beverley Joseph - We are grateful for the life of Beverley Joseph Mitges.
He passed away peacefully on April 28th 2014, in his 85th year.

He was born in Guelph, Ontario on July 20, 1929 and lived most all of his life in Hamilton, Ontario.

He was husband to Rhoda Mitges and father of four children (Phillip, Cindy, Marika and David).

He spent most of his working life at Dofasco as a turn foreman, and made a huge contribution by helping match many good people to employment there.
He was a kind and gentle man, and loved to play chess, read, cook, garden, build and entertain.
Movies, crosswords and classical music were passions of his. He was a good son, husband, father, grandfather, uncle, friend, and provider.
He was predeceased by: his father Aristides (Steve) Mitges (1897 – 1956) and mother Lucy May Mitges (nee Johnson) (1897 – 2001) and three of his seven siblings (Marika, Imelda, Loreigh).
Since his death and prior to the posting of this obituary, his son Phillip died (1951-2015), his brother Albert John died, and his loving wife Rhoda Jeannette Mitges (nee Adams) died (1930 – 2021).
Remaining to mourn his passing are his daughters Cindy (Steve) and Marika, son David (Micheal), and many grand children and great grandchildren, and many nieces and nephews and friends.
We each have our fond memories of our time with Bev, and are thankful for the positive difference he made in our lives and in the world. Our thanks to all those that helped Bev in his life.
Cremation has taken place and ashes buried.
His son David can be reached at 1701-77 Carlton St., Toronto, ON M5B2J7.
Additional pictures of Bev can be found on the obituary page of his wife Rhoda Mitges .
Family and friends knew of his passing, but posting of this obituary was intentionally delayed for safety reasons as his surviving wife was living alone.
We are thankful for you, and miss you Dad.

{fastsocialshare