DRINKWALTER, George Drinkwalter - Born September 9th, 1940; departed April 13th, 2020.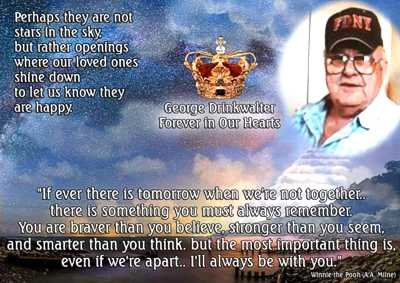 Dad and hero to daughter Jody Drinkwalter (Brown), son David Drinkwalter, grandpa to Joshua Drinkwalter & husband to Noella Drinkwalter.
Dad had two daughters from His first marriage: Tammy & Vicky.
Dad lost his battle with covid brought on with pneumonia.
Dad was my best friend! A man you could always run to in your hour of need!
I will always wish I could have been by his side at the nursing home at the end.
Dad was a wise man who always swung for the under dog.
Dad was born in Powasson, Ontario (to Mom: Sarah Lottie Armstrong (Drinkwalter), Brother to: Carolyn, Bill, Grace, Nona.
He grew up in Toronto to later move us to Mount Albert; where He gave us the best place to grow up!
Dad was a talented singer, songwriter and played acoustic guitar beautifully.
Dad also spent many years sacrificing his music to be home with his family and so became a talented sales manager and entrepreneur. When he sang, it would pierce people's hearts.
He lived by the "golden rule" and was the most honest person I have ever known.
God gave us an extra 15 years as Dad battled many ailments.
He was a cancer survivor and was able to spend alot of time with us his last years.
Wish we could have said our goodbyes face to face Daddy!
Dad we love you and count the days til we meet again! Please hold a spot for me up there.
I often look for you in the clouds. ...Love Jody.

{fastsocialshare