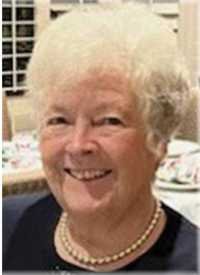 SOMMERVILLE, Linda -
January 5, 1948 - May 8, 2023
Linda died peacefully, surrounded by family, at her home in Toronto, after five years of compassionate care from staff at Princess Margaret Cancer Centre.
Born in Toronto to Muriel and Nelson 'Mac' Seccombe, with three siblings, John, Pat and David, whose fun-loving support she cherished through life.
Linda instilled a sense of fun in her three children, Andrew, Jordan and Linsey.
It's a quality shared by her loving, devoted husband, Bob Sommerville, and her children by marriage, Colleen and Patrick, as well as her five adored grandchildren, Adele, Isla, Calvin, Charlie and Mackendry.
Linda was a devoted member of the Junior League, a former Board President of New Directions, a charity supporting divorced and widowed women, and a volunteer and former staff member at the Juvenile Diabetes Research Foundation.
Linda and Bob married in 1993, and created a warm, thriving home for five teenagers. Their childrens' friends became like bonus kids: anyone was welcome at the house anytime.
Linda had a saying that just a few friends was enough to sustain anyone, that it was possible to feel luck and gratitude for having had that. And yet she had dozens of close friends – a testament to her kind, fun-loving, and always hopeful nature.
All are warmly invited to celebrate her life at a Funeral Service at 11:00 a.m. on Thursday, May 11, 2023 at Timothy Eaton Memorial Church, 230 St. Clair Avenue West, Toronto. A reception will follow in the Flora McCrea Auditorium.
In lieu of flowers, please consider a donation to a Charity of Your Choice.
{fastsocialshare