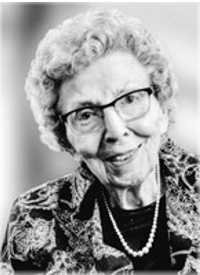 REIMER, Elizabeth Regina (Betty) -
September 1, 1922 - September 6, 2023
Our Aunt, Betty Reimer, died peacefully at Chinook Intercare in Calgary, Alberta, after a brief illness.
She is now resting in heaven in the arms of her Lord and Saviour, Jesus Christ, whom she served for so many years.
She is survived by her sister Dorothea; nephews and nieces, Phil, Oliver, Dale, Ernest, Linda, Karin, Ken, Alen, Susan Ann, James, Robert, Wayne, Deborah, Gilbert, Dianna, Gerald, Ann Margaret Alice, Todd; numerous great-nephews and nieces.
Betty was predeceased by her parents, Abram A. and Margaretha (Friesen) Reimer, her sisters, Helena, Aganetha (John Wall, Gearhart Toews, both widowers), Margaretha, and brothers, Ernest (Alice), Alfred (Margaret), Andras, (Ann), John (Jean) (MaryAnn), Alexander (Emmie), Abram (Alice), her nephews William, Raymond, David, her nieces Cathy, Elizabeth.
Betty was born in Steinbach, Manitoba along with her 6 brothers and 4 sisters.
Betty and Dorothea traveled and toured Canada and Europe together, keeping in touch with siblings and the many nephews and nieces, and the greats.
Betty, along with her sister Dorothea were Music Librarians from the 1980's onward at the first Baptist Church, Calgary, which was dedicated in the Reimer name.
In the latter years Betty regularly sent out newsletters to all her nieces and nephews keeping them up to date with news and events reported to her from these same folks who were living and working all over the world.
Betty will be laid to rest at the Mountain View Cemetery on Friday, September 22, 2023.
{fastsocialshare