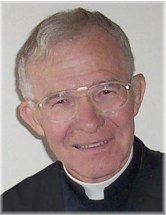 ZINGER, Rev. Cecil H., CSB - Mercifully from cancer at Toronto Grace Hospital with nieces Gale Driedger and Barbara Bell and grandniece Miranda Bell present on Friday, October 27, 2017.
He was predeceased by his parents Theodore Zinger and Frances Wiesner and sisters Lorraine, Marjorie and Irene.
He is survived by his siblings Wilbert Zinger and Doris Klotz and many other relatives and many good friends he made at St. Michael's College School, Toronto over a period of 60 years.
Fr. Zinger was born in Macklin, SK on February 23, 1933.
Immediately after obtaining his B.A. at the University of Saskatchewan he entered the Basilian Fathers and then taught at St. Michael's College School from 1957 to 1960.
After ordination in Toronto in 1963 he taught for two years at St. Mary's High School in Calgary. Fr. Cecil then returned to St. Michael's C.S. in 1966 where he taught until his sickness caused him to fully retire 4 months before his death. He was very loyal to the St. Michael's students during and after their time at the school and they were very loyal to him. They speak fondly of the Saturday morning detentions when they worked in his gardens so evident on the school grounds and within the Basilian Fathers residence.
Visitation will be held on Monday, October 30, 2017 from 3 p.m until closing with a prayer service at 7:30 p.m. at St. Michael's C.S. gymnasium, 1515 Bathurst Street, Toronto.
Visitation will also be held on Tuesday, October 31, 2017 at St. Basil's Church, 50 St. Joseph Street, Toronto, Ontario from 8:30 a.m. until a Funeral Mass will be celebrated at 10 a.m. Interment will follow.

In lieu of flowers, contributions can be made to the Basilian Fathers Retirement Fund, 95 St. Joseph Street, Toronto, Ontario, M5S 3C2.