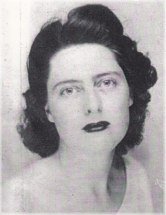 STEPHENSON, Marjorie - July 23, 1920 - October 28, 2017 Our dear mother, Marjorie Frances Stephenson, passed away at Cerderwood Village in Simcoe, Ontario on October 28, 2017 at the age of 97 years.
Family members were there by her side when she passed away. She is survived by her four children, Alexander William George Stephenson, David Anthony Stephenson, William Michael Stephenson and Jacqueline Frances Jane Stephenson.
She was married to our father, William Frederick Stephenson, who predeceased her.
She is also survived by her sister, Yvonne Elizabeth Hands (nee Davies), or "Betty" as she is better known as. Her other sisters, Eileen Joy Burnell (nee Davies), better known as "Tottie," Margaret Sawyer (nee Davis) and Mary Davies, as well as her brother George Davies, all predeceased her.
Our mother was born in Melbourne, Australia, although she lived most of her childhood and young adulthood in England. Her parents, Herman George Tankersley Davies, better known as "George Davies" and Eileen Frances Elizabeth Davies (nee Goldberg) and her four siblings resided in Windsor, England.
Just after the War our mother moved to Canada, where she married our father in Halifax, Nova Scotia.
They eventually moved to Toronto, Ontario.
A Funeral Mass will be celebrated on Friday, November 10th at 11 a.m. in the Blessed Sacrament Catholic Church (on Yonge Street south of Lawrence Ave.) at 11 a.m. There will be a reception after the Mass in the church hall followed by a burial. Arrangements with Trull Funeral Home & Cremattion Centre, Toronto ON.

{fastsocialshare}