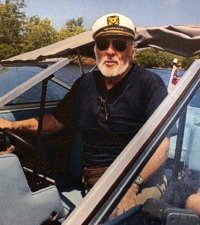 SMYTH, Richard 'Dick' Parsons - (April 6, 1934 - March 6, 2021) (Age 86) -
Richard Parsons Smyth, more widely known as Dick Smyth, very reluctantly succumbed to his recent battle with cancer.
The void of his booming presence will be keenly felt by his wife Marnie, his three daughters Lann, Tracey and Dawn, his sons-in-law Bob, Jim and Stan and his cherished grand-girls Hannah and Mira.
Dick was a pioneer of the early days of Rock-n-Roll Radio, developing the reporting/broadcast news at CKLW in Windsor.
Working as a news reporter across the border from the volatile condition of Detroit in the late sixties was an exciting, career-building time for Dick where he earned many accolades and awards for his energetic coverage of events such as the Detroit race riots.
This recognition led to his move to CHUM Toronto as News Director, where he very effectively honed the art of outrageous commentary. The popularity of his daily broadcast comments led to televised and print versions where the picture of Dick with his pipe of tobacco was well known in Toronto.
Dick and Marnie retired to their beloved Muskoka where he enjoyed 21 years, never relinquishing the desire to express his vocal and written points of view.
Several years ago he wrote his own obituary, with the provision, we don't change a single word. So here it is, the final, Here's How Things Look To Dick Smyth...
I've always been a DIY guy. So I have written my own obituary.
It was a good run. I hated being in my eighties but at the same time I was grateful for getting that far when so many of my contemporaries did not.

I had a long and happy marriage to Marnie. Scorpio and Aries are a bad combination but despite a few bumps and totally different personalities, we made it for over 60 years. We produced three wonderful daughters ("The Smyth Babes" as the late Tom Rivers called them). Dawn Marie gave us two stunning and smart granddaughters. I had a long and successful career in Radio, TV and print. We then enjoyed more than twenty great years of retirement in our beloved Muskoka.
We travelled to six of the seven continents. (Never made it to Antarctica.).
On one trip I circled the world in twelve days, doing a nightly feature on CITY-TV. Marnie and I were everywhere in Canada except Nunavut and in perhaps half the U.S. states. My work allowed me to meet or interview everybody from Jimmy Hoffa to Queen Elizabeth.


I was born in Montreal on April 6, 1934, raised a Catholic and educated by the Jesuits of whom it is said they will make you either a priest or an atheist. I ended up an angry agnostic with hearty contempt and disdain for all organized religions and the chaos, strife, prejudice, lies, suffering, hatred, injustice, evil, hypocrisy and absurdities they all produce. So there is no need for prayers. Remember me with a stiff dark rum or a double scotch on the rocks.


I was an agnostic rather than an atheist because there obviously is some design and purpose to the universe. I don't believe in an afterlife yet have toyed with the purpose of life and the mystery of death. Reincarnation? Ghosts? Something no one has even conceived? Atheists categorically deny the existence of god. (The lower case "g" is deliberate.). We agnostics (from the Greek "don't know") say that there is no way we can figure it all out. I hope that by the time you read this, my curiosity will have been assuaged.


Not too many regrets... wish I had learned to fly, to speak Italian and to play the piano. I've had many great friends, intriguing colleagues, outstanding bosses, interesting acquaintances and only two mortal enemies.
(Who might they have been?)
In lieu of flowers, the family asks that memorial donations be made to Hospice Huntsville.
Arrangements with Reynolds funeral home, Bracebridge. Post Covid, a celebration of Dick's life will be held where all will be encouraged to raise a glass of Irish whiskey and join in a rousing chorus of 'The Glad Boys of Radio.'
{fastsocialshare