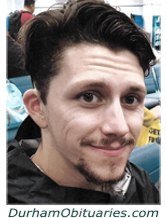 BENNETT, Jonathan Campbell Bennett - "My ultimate goal in life is to be able to look in the mirror every day and be happy with who I am." - Jon
Lost much too soon and tragically in a cycling accident in Rome, Italy on November 21, 2017, Jon was an immensely-gifted, fourth-year architecture student at the University of Waterloo.
He was the treasured son of Dr. Patricia Campbell and Dr. Dean Bennett of Oshawa. A loving and quirky big brother to sister, Sarah.
Precious grandson to his Memé and Pepé, Sylvia and Chester Campbell of Oshawa; to his Nana, Elizabeth (Betty) Bennett and his grandfather Ken Bennett, both of Cornwall, Ontario.
Adored nephew and 'shared son' to Chris and Lucy Bennett of Cornwall, and Michelle Campbell and Steve Garrison of London, Ontario. Sorely missed by Uncles Tony Bennett (Tracy Jodoin) of Cornwall, Craig Bennett of Halifax, and Aunt Melissa Bennett (Jeff Lalonde) of Plantagenet, Ontario. Will be profoundly missed by his sweet girlfriend, Sally Kim.
A graduate of Oshawa's Stephen G. Saywell P.S. and R.S. McLaughlin H.S., Jon grew from an enchanting, funny and happy little kid, into a strong, sensitive, generous, and thoughtful young man. Always surrounded by a loving family and very wide circle of friends, Jon had a natural curiosity about the world, and a true sense of adventure.
Gifted in more ways than can be described, Jon never wasted a moment of his precious, too-short life. He was well-travelled more than others twice his age, enjoying multiple visits with his family worldwide and architecture study/work terms in Vancouver, Paris, San Paulo Brazil, and Rome, Italy. His travel log also included a trip to Okinawa, Japan as a young karate student at the age of 16.
Jon's many passions included art, craft beer, karate, piano, travel and languages, fitness, eclectic forms of music, exotic spicy food, rock climbing, and nature; but mostly Sally Kim. He had little fondness for meat and zero tolerance for human injustice. His quick and wicked sense of humour meant he particularly valued chance moments to do whatever was required to make others laugh hysterically. His natural charisma, intellect and warmth created instant friendships with people the world over. If you knew Jon, you were a friend for life.
While his loss is overwhelming for us all, Jon would not want us to mourn; rather, he would look upon this as a great excuse for a social gathering with friends, music, laughter, and of course, a pint or two of Guinness.
Jon's friends and family who wish to celebrate (not mourn) his remarkable young life, are invited to drop in to The Robert McLaughlin Art Gallery, 72 Queen Street Civic Centre, Oshawa, from 2:00 to 6:00 p.m., on Saturday, December 9th.
In celebration of Jon's passion for travel and in support of the international study of architectural students, people are invited to contribute to The Jon C. Bennett Travel Bursary for Architectural Study at the University of Waterloo, School of Architecture, in lieu of flowers. Charitable contributions of any amount can be made online at: https://ecommunity.uwaterloo.ca/JonBennettTravelBursaryFund, or via mail to: Office of Advancement, University of Waterloo, 200 University Avenue West, Waterloo, Ontario, Canada N2L 3G1, Attn: Salman Jivani.
Hans Christian Andersen said, "to travel is to live."

We believe Jon's travels continue -- just in a different way -- keeping his remarkable spirit alive in our hearts and forever in the world.
{fastsocialshare}