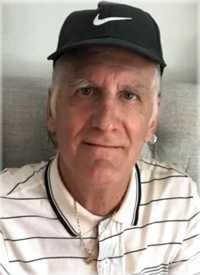 TAYLOR, Keith Arthur Taylor - Age 67 passed unexpectedly in Peterborough on October 3rd 2022.
Keith was born on July 19th, 1955 in Quebec Ontario to the late parents of Roderick (Rod) and Mabel (Marie) Taylor.
Predeceased by his longtime companion Barry Hall.
He will be missed by his two daughters Melissa (Shellie) and Ashley (Justin), his grandchildren Jacob, Spencer and baby, his older brother Kevin (Lucia) and younger sister Janice along with nieces and nephews.
Keith was a musician with a love for the guitar, banjo and harmonica.
He was also an artist.
He had a great sense of humour and a warm heart.
As a Cancer sign, he loved his budgies; road trips in nature and anywhere that included a lake as he truly loved the water.
Keith was a kind gentle soul and he will be missed dearly.
In his memory, donations can be made to support the Wildlife Bird Sanctuary of Toronto.