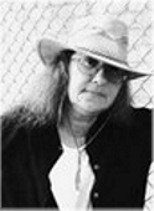 CAPPONI, Patricia 'Pat' - Order of Canada -
(1947 – 2020) - "The most effective advocate the poor and mentally ill have had anywhere, one of the most devastating authors Canada has known, and easily the classiest argument ever made for wearing cowboy hats in all weather, all day, indoors and out."
It is with great sadness that we announce the end of life for Pat, psychiatric survivor and a most remarkable woman.
Born in Montreal, a graduate of Sir George Williams University, Pat's early life was very difficult and affected by mental illness.
Moving to Toronto, she spent time in a hospital psychiatric ward and when she was released into the community of Parkdale, she was sent to live in a local boarding house. Her life in advocacy began then, as she brought the plight of those living in deplorable conditions to the attention of then Health Minister Larry Grossman.
Her time in the boarding house is the subject of her acclaimed and ground-breaking memoir, Upstairs in the Crazy House, published in 1992 by Penguin Books. Her books Dispatches from the Poverty Line, The War at Home, Bound by Duty, and Beyond the Crazy House followed. Her two eccentric mysteries, Last Stop Sunnyside and The Corpse Will Keep were set in Parkdale and published by HarperCollins.
When Pat had a quadruple bypass she felt that her life had been spared so she could make a difference in the world. And she set about doing so.
Here is just a sample of her advocacy work: Lead Facilitator, Voices From the Street; Co-chair of Mental Health Sub-committee of the Toronto Police Services Board; Member of Work-focused Discussion Group (Ministry of Community and Social Services); member Steering Committee of Civic Action, Health Council Mid-Toronto West; founding member of RACI (Resident and Consumer Initiative), a group of psychiatric residents and consumer/survivors; part time member of the Consent and Capacity Board.
She has been awarded the Order of Ontario, the C.M. Hincks award from CMHA, the Queen's Golden Jubilee and Diamond Jubilee medals, and in 2015 she received the Order of Canada.
She is survived by her niece Sabrina, and great-nephew Quinton. She was predeceased by her dear friend and mentor Dr. Reva Gerstein, who died just a few months before her.
Pat will be deeply missed by all of those whose lives she touched, from politicians to voices from the street. Those who heard her speak, or attended a workshop, or read her books, will never forget her.
But she will be especially missed by Pat's Team: Dan Aronchick, Mike Creek, Cynthia Good, Nora McCabe, Heather MacVicar, Jennifer Orange, Dr. Pauline Pariser, Jennifer Posthumus, Paul Quinn, Joey Slinger.
Donations can be made to the Gerstein Crisis Centre at gersteincentre.org, in memory of Pat Capponi, or to your favourite charity.
And Pat would appreciate your watching the video she produced just before her death: "What Reva Taught Me": https://www.youtube.com/watch?v=yYaQ_pZYsMw&feature=youtu.be
"We, those with lived experience, must challenge the status quo; we must be the change agents, we must dare to speak our truths even when gate-keepers and those who derive their status and employment from our communities deny us our right to speak, to engage, to point out the systemic failures that guarantee their jobs and our continued poverty." - Pat Capponi.

{fastsocialshare