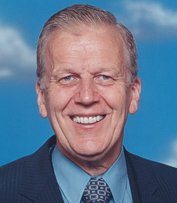 KEIDANN, Rev. Dr. João 'John' Carlos - (May 29, 1940 - June 28, 2020) -
After a long journey with Alzheimer's disease John has entered his heavenly home.
John was loving husband of 29 years to Beth Cullen, father to John, Anne, Nina Revering and Stella Hastings (Todd); grandfather to William Dean (Kaila), Priscilla, Lucas, Tyler, Aiden and Daniel; great grandfather to Amelia; brother to Eduim (Carmen), Paulo (predeceased)(Siara) and Benjamim (Zina).
John was born on May 29, 1940 in São Paulo, Brazil to Rodolpho and Anna Keidann. He was proud of his Latvian-Brazilian heritage. John's father was a pastor, as were other family members. John made his own decision to follow Christ at age 8 and was baptized at age 12. He felt called to ministry of the Word, in which he was brought up, by the Spirit of God, and by the testimony, encouragement and challenge of other servants of God.
In 1963 John completed his Bachelor of Theology at the Seminário Teológico Batista do Sul do Brasil (STBSB) in Rio de Janeiro then went on to earn Master of Theology and Doctor of Theology degrees at Southern Baptist Theological Seminary in Louisville, Kentucky. When John returned to Brazil in 1970, he became a Professor of Christian Theology at the STBSB in Rio. While teaching full time, he served as an Associate Pastor of Itacuruça Baptist Church in Rio for 4 years. In 1974 he was called to be the Senior Pastor of Madureira Baptist Church in Rio, also for 4 years, while continuing to teach. This church grew to be a congregation of 800 with a strong emphasis on evangelism and Christian Education.
It was through John's repeated emphases on evangelism and missions that he first heard God's call to mission service. While studying at Southern Seminary he had visited Canada, so he was intrigued to learn that Canada needed missionaries. Rev. Bob Berry, the executive secretary of the Canadian Baptist Overseas Mission Board (now CBM) requested the Brazilian World Mission Board to send a pastor to work at Olivet Baptist Church in an area of Toronto with a large number of Portuguese speaking families. John responded to that call, arriving in Toronto in 1978 as a pioneer "missionary in reverse". While serving as pastor of the Portuguese congregation at Olivet, he helped to establish Portuguese outreach in London, Cambridge, Brantford, Hamilton, Brampton, Streetsville and Scarborough from 1978 - 1983.
In 1984 John was called to be pastor of a multi-cultural English speaking congregation in Toronto's west end, Kipling Avenue Baptist Church. After 7 years of ministry there, John met and married Beth. Together they ministered another 9 years at KABC. From 2000 - 2006 John served as pastor of Agincourt Baptist Church and it was during this time that the youth centre was added to the church. His final pastorate was from 2006 – 2011 at Yorkview Heights Baptist Church in North York. In all of his pastorates, John was a joyful, energetic "people person" who loved to move through his congregation before and after a service, greeting, shaking hands and giving hugs. Always the evangelist, he witnessed for Christ at every opportunity. He enjoyed providing daily phone messages for the Telefone da Paz and Dial for Faith ministries, calling people on their birthdays or anniversaries and making visits to every church member or newcomer. John cared for those who needed comfort and encouragement.
John had a gift for languages, and was fluent in Portuguese, English and Spanish and enjoyed speaking a little in Latvian, German, Italian and other languages. John loved to travel and joined some of the Baptist Fellowship Tours. With Beth he travelled to Korea, Brazil, Israel, India and Cameroon. He became an avid gardener, and raised a variety of vegetables that were shared with family, neighbours and church members. His appreciation of music took him to many performances of the Canadian Opera Company and concerts of the Toronto Symphony Orchestra.
John had a positive impact on the lives of many people and he will be greatly missed.
As expressions of sympathy donations to the Canadian Baptist Ministries would be appreciated by the family.
Private funeral arrangements. Live funeral webcast to take place on Saturday, July 11th at 11:00 am, online through the website of Newediuk funeral home.
He is now in the presence of his Lord and Saviour, Jesus Christ, who he loved and served faithfully and joyfully. "Well done good and faithful servant…enter into the joy of your master" (Matt. 25:21).
{fastsocialshare