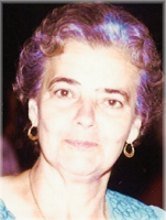 REPOPOULOS, Fani (Stoyanka) - Passed away peacefully in her sleep, on Sunday, August 9, 2020, in the comfort of her faith and in her own home - the way she always wanted.
Stoyanka was born in the beautiful Macedonian village of Besfina, one of 6 children born to Mijale and Ristana Dimitropoulos.
Like most young village girls, she was soon engaged and then married to the love of her life Naso Repopoulos at the tender age of 16.
In 1955, after leaving Poland and collecting her children from Hungary, Stoyanka travelled by plane to join Naso who had been working in Canada for five years to make enough money to bring his family to Toronto.
Once again, their door was open to all, and many relatives coming from "the old country" to make their future in Canada, knew they could always count on the generous hearts, delicious meals and warm beds that were to be found at the Repopoulos household.
Through the years, Stoyanka lovingly and tirelessly took care of her nine grandchildren so that their parents could work, and the grandchildren spent happy days with her playing in the park and enjoying homemade mandza and zelnik. "Baba Stoyanka" as she was called, was also a doting great grandmother to her 14 great grandchildren and 5 great-great-grandchildren: never forgetting a birthday and always having Christmas envelopes ready ahead of time, so that every child had something special from Baba.
Together Naso and Stoyanka were a marital team who loved and respected each other and lovingly shared every day until Naso's passing in 2006.
Baba Stoyanka will always be remembered for her love of family, her work ethic and her strength to take on anything that life put in front of her. She was the model of a selfless, genuine, and dedicated woman whose presence will be missed every day by her children Lena, Milka, Chris and Steve and by the whole family, in whose hearts she will always remain.
Due to the Covid-19 restrictions, the funeral arrangements will remain private.
The family kindly requests that friends offer their prayers and intentions in the safely of their own homes.

{fastsocialshare