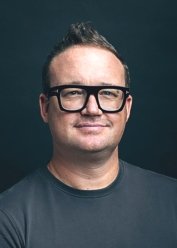 ABRAMOWICZ, Jakub 'Jacob 'Jake' - (1977 - 2021) - It is with deep regret and heartbreak that we announce Jake passed away suddenly in a cycling accident on September 18, 2021. He was 44.
Jake was a loving husband and best friend to Veronica; an intensely proud and loving father of Gabriel (Gabe); a brother to beloved big sister Paulina; a loyal brother and business partner to Martin Kruppe, (Samantha); devoted uncle to Edward, Barbara and Evelina; an incredible son-in-law to Ines Di Santo and Frank Augello; and loving stepson to Iga.
Jake was predeceased by his parents Hubert and Maria.
Jake's remarkable life journey began in Libya, where his father moved to from Poland to lead an engineering project. Shortly after Jake was born, his family moved to Canada. His mother died tragically when he was 7.
As a child growing up in the modest, yet eventful, areas of Agincourt and Flemingdon Park in Toronto, Jake's promise as an art student at Claude Watson was thwarted by a teenaged penchant for mischief. After finishing high school at Agincourt Collegiate, he proudly worked a variety of part-time jobs to put himself through an undergraduate degree from the University of Toronto.
Jake had an astonishing ability to earn lifelong friends everywhere he went. His network of relationships was deep, diverse and stretched around the world. He loved outings large and small and – at every party – he was the architect of fun, the master of pranks and the instigator of passionate debates.
Jake parlayed his intelligence, charm and incomparable hustle to become one of Canada's top mortgage brokers. He loved his work and felt most rewarded by helping clients – who may have otherwise been rejected – achieve home ownership and financial security.
At one of his legendary house parties in 2005, Jake met the love of his life, Veronica. They travelled all four corners of the world together, both for pleasure and in support of Veronica's successful family business. They embarked on adventures to China, Thailand, Dubai, Turkey, San Diego and New York together, collecting new friends and great stories at every turn. They were on cloud nine when Gabe was born in 2011 and, in no time, he too had his passport stamped on every page.
Working out of his home enabled Jake to spend a great deal of his time with Gabe. Jake was overjoyed to have Gabe at his side when accompanying Veronica on her frequent business trips to Manhattan. Gabe also shared Jake's passion for sports cars, photography, drawing and cycling.
Always a child at heart, Jake routinely enlisted neighbourhood kids into epic Nerf-gun battles, marathon bike rides and walking adventures in Sunnybrook Park. He will be missed greatly by all the kids in Underhill/Don Mills and Sauble Beach.
His passing was sudden and shocking but – because Jake believed enjoying life was paramount – he would surely not want anyone to feel down for long.
In lieu of flowers, please consider a voluntary and random act of kindness for someone you think could use one, or if you are able, a donation to the Mortgagejake Scholarship Fund created for the purpose of providing assistance to students from disadvantaged communities in Toronto entering an Ontario university. https://www.gofundme.com/f/hq3mdg-mortgagejake-scholarship-fund

Arrangements and livestreamed private funeral service details are entrusted with Paul O'Connor Funeral Home, Scarborough.

{fastsocialshare